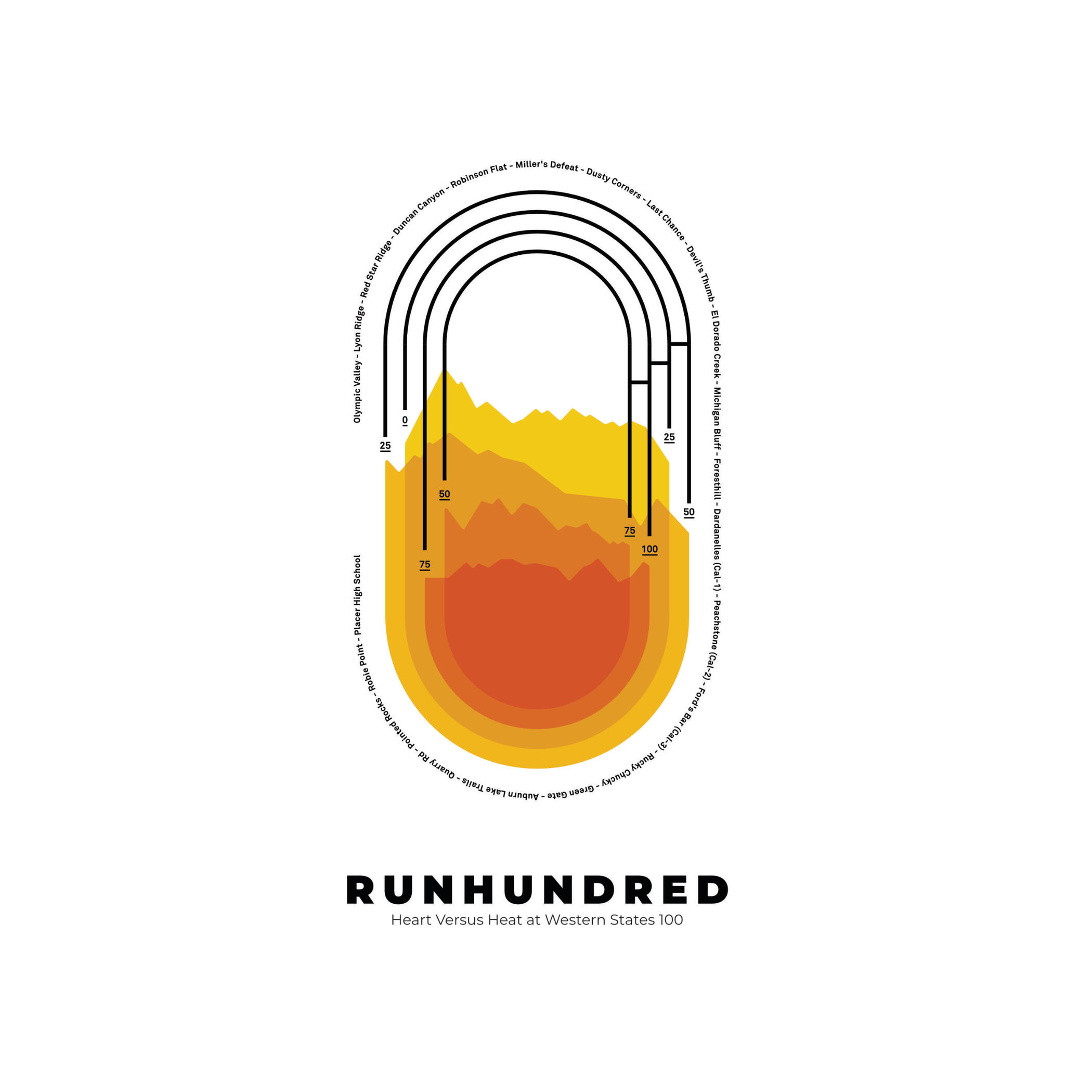 Heart Versus Heat at Western States 100
Runhundred
RUNHUNDRED is the debut book of Chris Zehetleitner about his life-changing experiences at the Western States Endurance Run.
Runhundred
Preorder the Book
All pre-orders will be shipped on December 1st, 2023. We ship wordlwide.
Physical
Paperback Book
Physical paperback book with 262 pages and colored photography. Signed by the author.
€17.90
Shipping only 1.90€ Germany | 6.90€ World
---
Digital
eBook
Digital file suitable for all eBook readers such as Kindle, iPad, iPhone or Kobo.
€9.90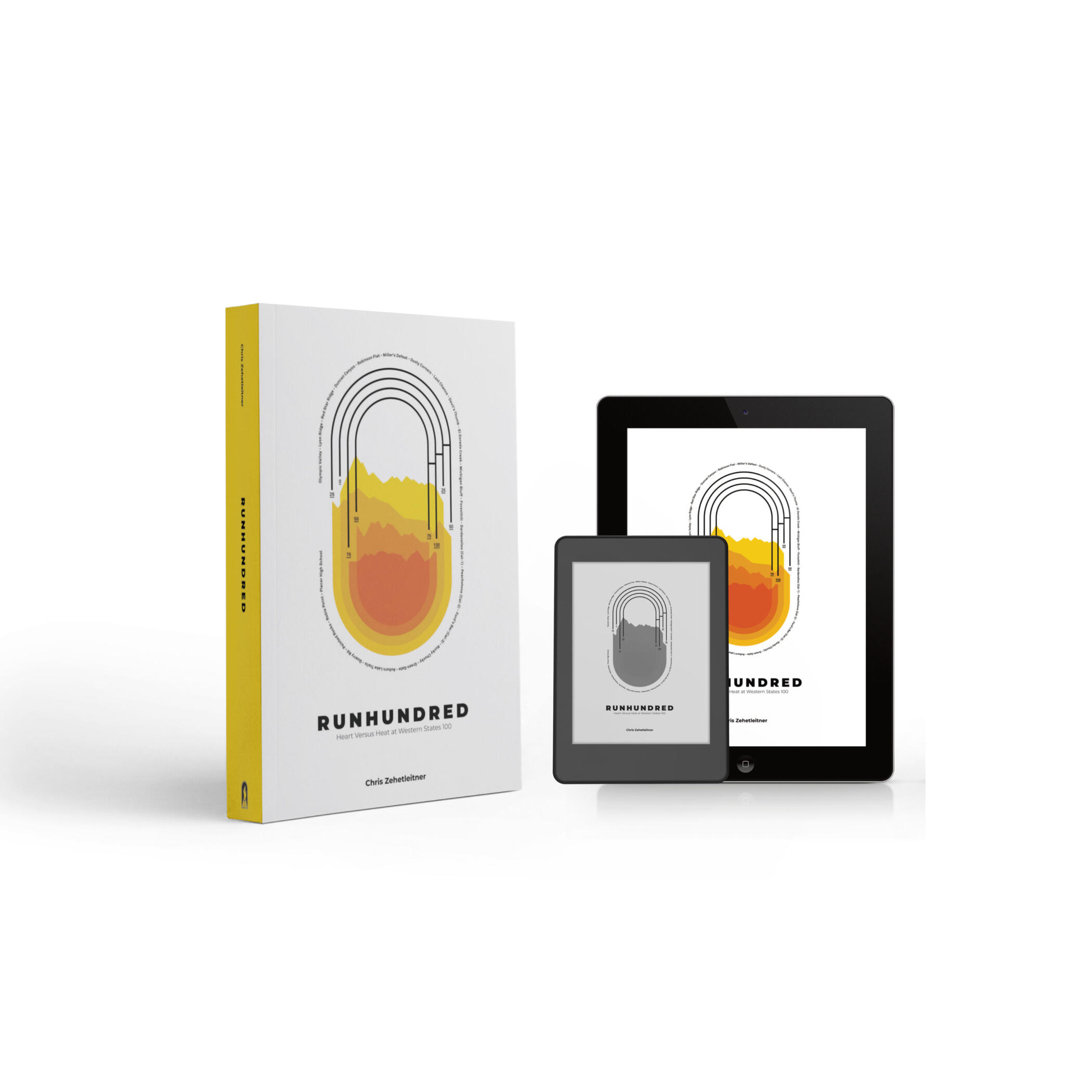 4th Woman at Western States 2022
Luzia Buehler
"Western States is not just any race, it is THE race. Chris beautifully captures his highly emotional adventure in his own unique way. Authentically written, his book leaves you craving for more. Chris demonstrates how running can positively transform your life."
former editor in chief of LAUFZEIT magazine | Host of 'Vom Laufen Podcast'
Christian Bruness
"This is one of the few books on ultrarunning that I would truly consider a must read. It's thought-provoking, well-written, and most of all, inspiring. If you're not already an ultrarunner, Runhundred will probably make you one."
Runner's World Editor
Henning Lenertz
"You might read this book and simply like it. However, you might as well shed some tears while reading this. Just like I did. "
Runhundred
Shirt Bundles
Each bundle includes a RUNHUNDRED paperback book and a t-shirt. You can choose between a black shirt and a white one.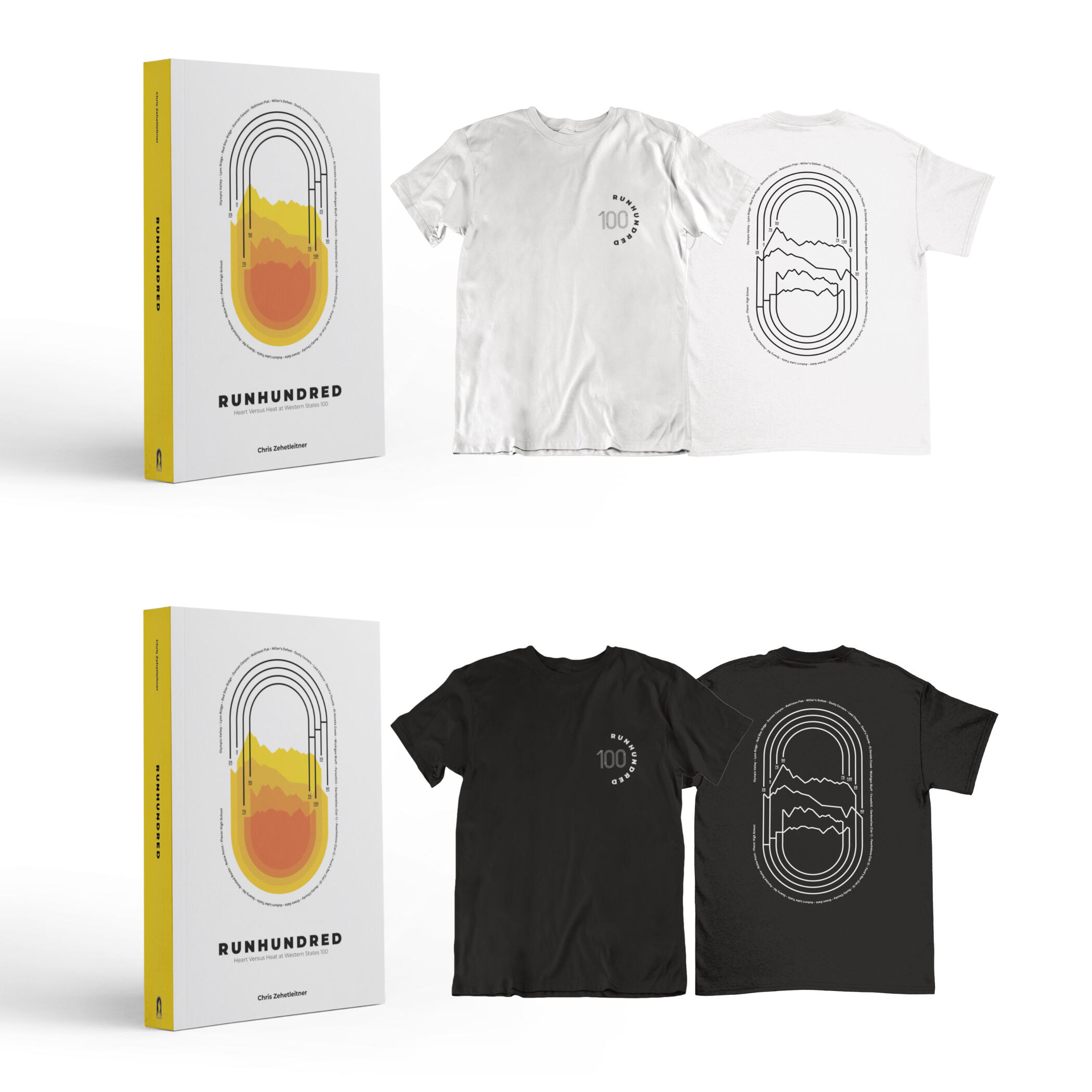 White Shirt & Book
White Shirt Bundle
This bundle includes a white RUNHUNDRED t-shirt and the RUNHUNDRED paperback book. Signed by the author.
€49.90
---
Black Shirt & Book
Black Shirt Bundle
This bundle includes a black RUNHUNDRED t-shirt and the RUNHUNDRED paperback book. Signed by the author.
€49.90
Australian Ultrarunner
Mat Grills
"Runhundred is a wonderful insight into ultrarunning for all to experience. Through Chris' writing, the reader can virtually feel what running 100 miles is truly like. It is an incredibly descriptive and captivating recounting of his long journey on foot. Through the preparation phase, to the start line in Olympic Valley, to the finish line in Auburn and everything in between, one rides the highs and lows with him.Chris has left his heart on the pages of this book and I know you will love Runhundred as much as I have."
Ultrarunner | Western States crew captain | and author's wife
Lisa Mehl
"It's hard for me to look at Runhundred in a neutral way. I've seen firsthand how the person I love falls apart and gives up. But I've also seen him retrieve himself through running, which I adore as well. Fortunately, I still don't understand his weird cutoff time calculations, so it remained only to hope that his situation will get better at some point. It would be the greatest recognition for the book if readers, faced with their own challenges, remembered this possibility."
Ultratrailrunner
Benni Bublak
"100 miles are long. Long enough to fill a book with one single run? But Chris abolished my doubts: this book is written by a levelhead but tells the story of a runner, who punk-heartedly reached the finish line of his dream-race."
Only 50 available
Deluxe Bundle
These special bundles are limited to a total of 50 pieces. The Deluxe Bundle will only be available until December 1st, or until they are sold out.
Limited T-Shirt | Book | eBook | Poster | Sticker | Postcards | Personal note
Deluxe Bundle
This bundle is strictly limited to 50 pieces. It includes a limited RUNHUNDRED cotton t-shirt with a 5-color print (you can choose between black and white), stickers, a set of 3 postcards, a hand-numbered, A3-sized art print poster, and the paperback plus the eBook version of the book. Also, a personal note from the author.
The Deluxe Bundle is only available as preorder.
€69.90
---
Shirt Bundles
1. Signed Paperback Book
2. Black or White T-Shirt
€49.90
Available without limits
Deluxe Bundle
1. Signed Paperback Book
2. Limited T-Shirt (50 pieces)
3. eBook
4. Postcard Set
5. Art Print Poster (A3, hand-numbered)
5. Stickers
6. Personal Note by the Author
€69.90
Only available until December 1st, 2023
Runhundred
About the Book
When a level-headed amateur runner is granted the chance to run the grueling hot Western States Endurance Run, he discovers that his epic journey to the finish line is about much more than just battling the heat.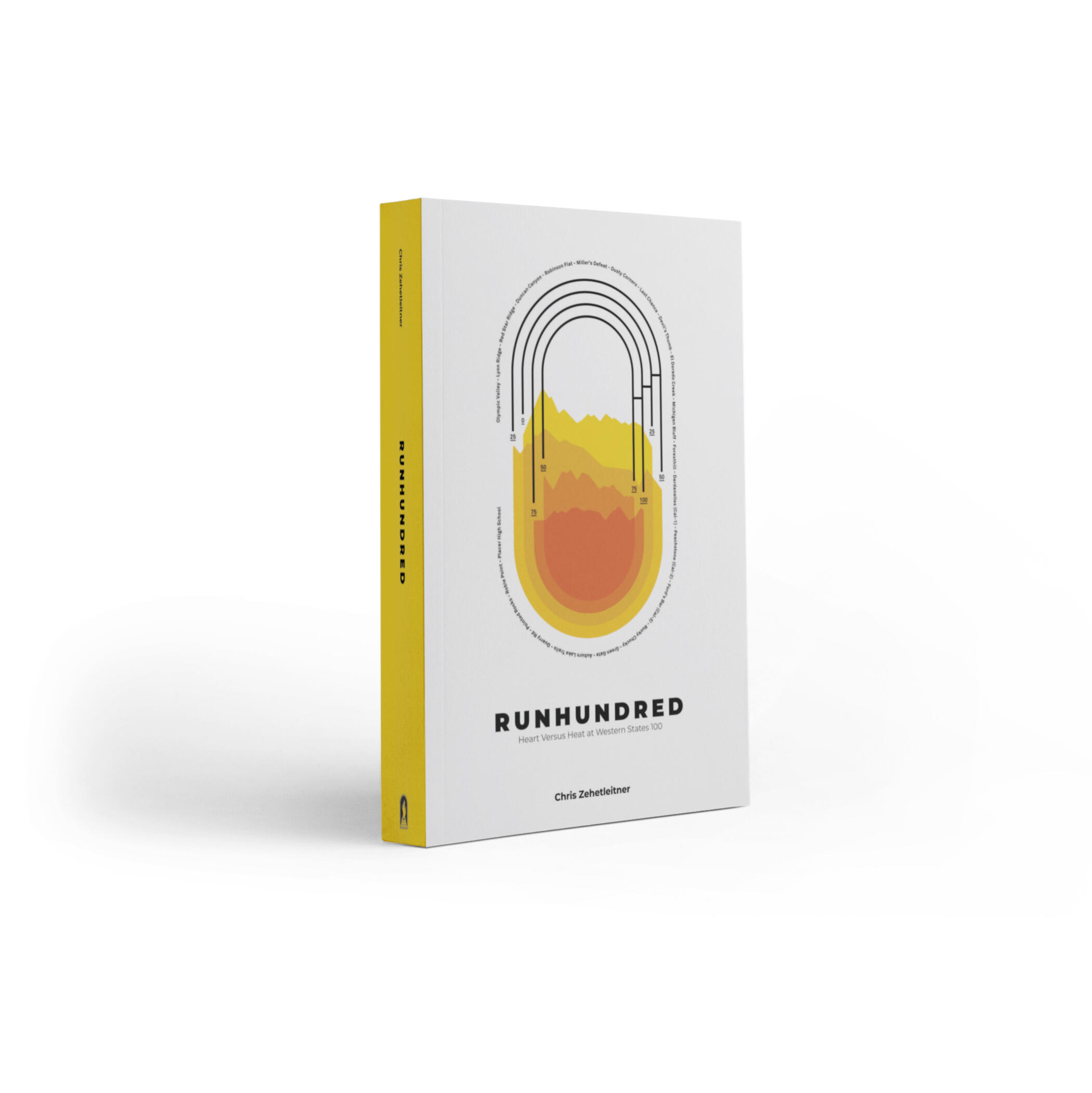 What's left when there's nothing left?
ABOUT RUNHUNDRED
Amid scorching heat and the Sierra Nevada wilderness, Chris Zehetleitner faces a profound question during his first 100-mile ultramarathon, the Western States Endurance Run: "What's left when there's nothing left?"Venturing into this grueling race, Chris discovers it can't be conquered through meticulous planning or a diligent physical preparation alone. While enduring the impossible, he realizes that he has to silence his mind and run with his heart. This revelation isn't just a turning point in the race; it transformed his entire life.In his debut book, Runhundred, Chris Zehetleitner fearlessly opens up his soul and outspokenly shares his innermost thoughts and emotions from this life-changing experience. With unprecedented candor and authenticity, Runhundred stands apart from typical self-congratulatory runner tales or generic guidebooks. It's a genuine, grounded account of what ultrarunning truly means. Not just as a sport, but as a deep enrichment to life itself.This book also pays tribute to the oldest and most iconic 100-mile ultramarathon in the world and describes this exceptional race in great detail. The Western States Endurance Run has written countless gripping stories over the decades. This one is called Runhundred.
Chris Zehetleitner
About the Author
"I used to play in hardcore-punk bands and now I write about running." — Chris Zehetleitner aka Das Z)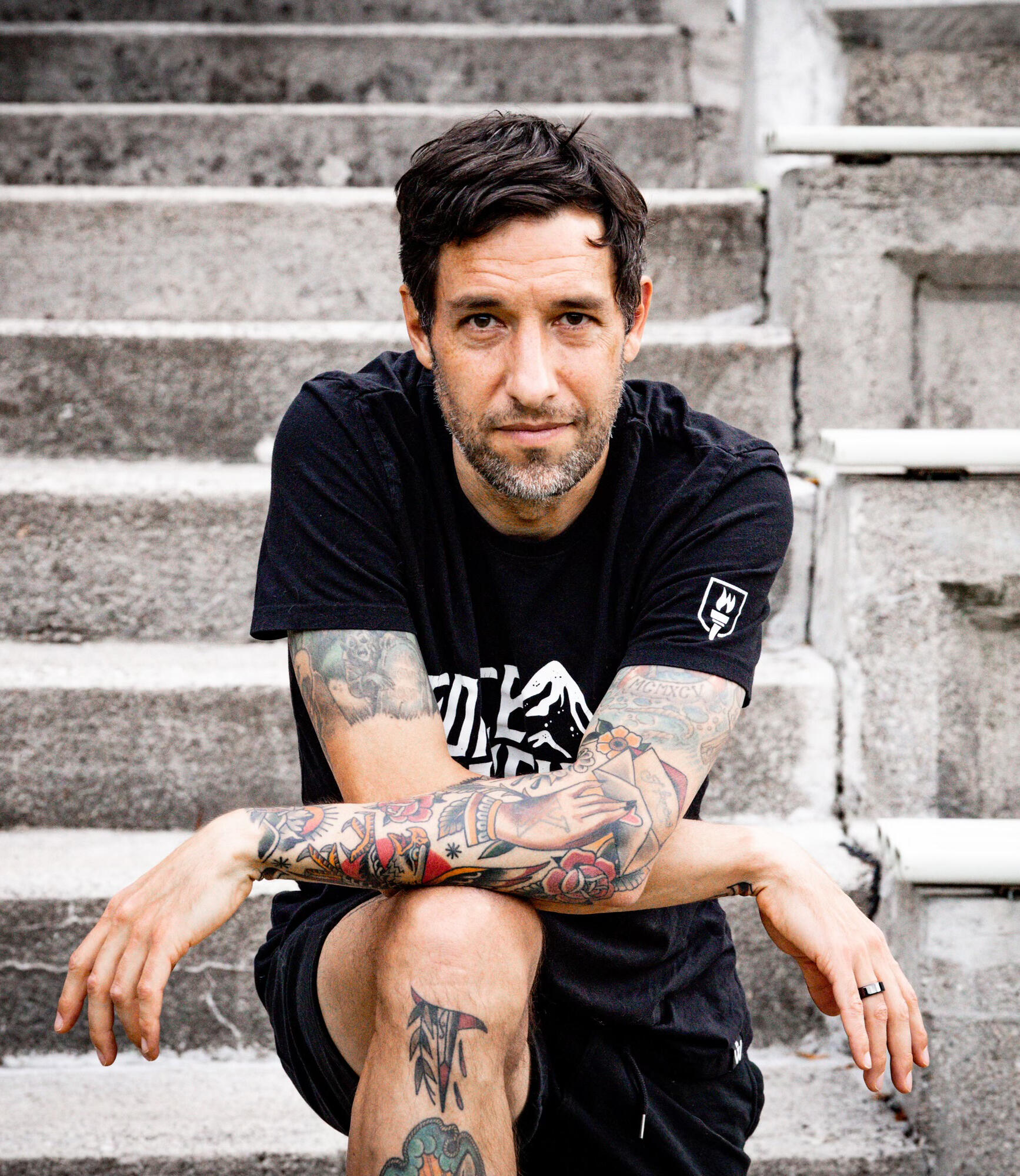 About the author
Das Z
Chris Zehetleitner is a 44-year-old writer, ultrarunner, cat lover, coffee connoisseur and former touring musician and music professional from Munich, Germany. He is the founder and owner of the running clothing brand WILLPOWER and a couple of other more or less visible side hustles. Chris runs the Das Z Letter running blog and newsletter and occasionally contributes stories to Like the Wind Magazine, Runner's World, and Laufzeit. He started running rather late in his life, when he was 34, and he hasn't stopped since. Together with his wife Lisa, he enjoys life and running to the fullest and looks forward to many more exciting running projects in the future.
Western States Endurance Run
About Western States
"Western States is not just a race. It is a state of mind, a way of life, a journey of the soul." — Ann Trason, 14-time Western States winner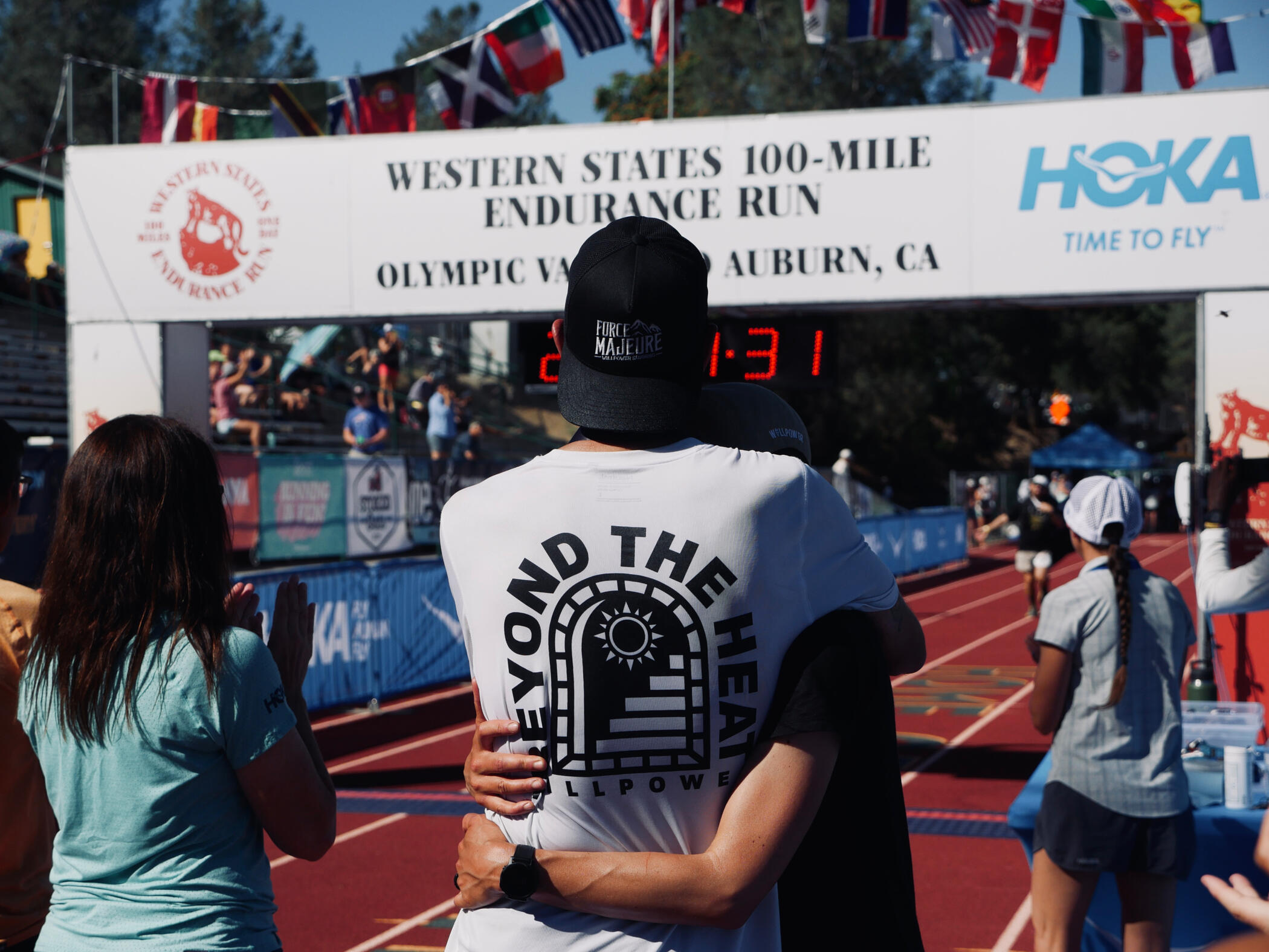 About the race
WEstern States 100
The Western States Endurance Run (also known as "Western States 100" or "Western States") is a 100.2-mile (161 km) mountain race. It is the oldest and most iconic ultramarathon in the world. It takes place each June in the Sierra Nevada Mountains in California. The race course starts at high altitude in the Olympic Valley and gradually descents into Auburn, a small town in Placer County, right in the middle between Reno, Nevada and Sacramento, California.
Participants of the race have to climb 18,090 feet (5,500 m) and descent 22,970 feet (7,000 m). It looks doable on paper, but is grueling in reality. Besides running at high altitude and rugged back country terrain, the intense heat is one of the major challenges of the Western States Endurance Run. Temperature can reach up to 104 degree Fahrenheit (40 degree Celsius) with big parts of the race course fully exposed to the sun.
The race has a strict 30-hour cut off time to be recognized as an official finisher and receive a bronze belt buckle. Runners who finish the race in under 24 hours receive a silver belt buckle.
Since 1984 only 369 participants are allowed to run Western States 100 each year. More than 6000 runners first qualify and then apply for a notorious lottery, selecting only 267 winners to run the race. An additional 102 runners are automatic entrants because they finished top 10 in the previous year, won a golden ticket race, are members of the Board of Directors or have been selected because of their outstanding work and support for the race.
Alongside the UTMB in Chamonix, France, the Western States Endurance Run is the most competitive and most sought-after ultrarunning event in the world. Almost without exception Western States sees the most outstanding athletic performances of our sport every year. It repeatedly redefines what is possible in ultra trail running and endurance sports in general. To almost every ultrarunner, it is the biggest dream and greatest honor to be a part of it.